Love Xubuntu 2016
Federico Airola
The conversation is between me and one of my University mates. We are both Xubuntu users and also programmers.
We are Italian and so the screen is in Italian, sorry for the inconvenience. But I'm going to tell you the story and translate the messages in the screen.
Here in Italy now it's exams-time. We, as programmers, were also working on two different projects, and were talking about them.
Me (green): "Also you had to pause your work?"
He (white): -sends a photo in which shows that his project's folder is locked-
He: "I had to change folder's user and give it to root; and then revoke permissions to myself" (he did this to remain focused on studying for the exams)
Me: -laughing-
Me: "This was funny!"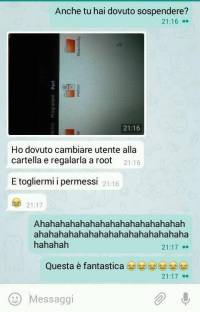 Source: https://lists.ubuntu.com/mailman/private/xubuntu-contacts/2016-June/000048.html (private archive)
Willem Hobers
Dina Goldin
Carl Vernersson
Dan Juarez
Robert Streeter (#1)
Daniel Eriksson
Keith I Myers
Sean Davis
Aaron Raimist
Jan Jansen
jugem
Koos Plegt
Victor Forberger
Michael Morozov
Shamil
João MC Texeira (#1)
Adam Brodziak
Krist Dylst
Víctor Sánchez
Sabrin Islam
João MC Teixeira (#2)
BstMnFall
Anton Styazhkin
Robert Streeter (#2)